On the heels of yesterday's "NaNoWri…Mo" post encouraging everyone not to give up on dreams, I thought I'd share some others' recent joy.
One of my good friends has always wanted to fly airplanes. The rest of us didn't know about her dream – it was something she kept close. No surprise. The dreams that seem least reachable thrive better in the shelter of our hearts and minds, where others' disapproval or doubt can't quench their tiny glow.
But after years of dreaming, she has finally reached the skies.
An unanticipated event gave her the opportunity to fly, and although many people might have said "it's too late for that now" she grabbed the chance and surprised us with photos of the Golden Gate Bridge – taken on her maiden flight. She's now studying for her license, and I have no doubt that some day soon I'll have to conquer my fear-of-all-things-airplane and go out flying with her.
I can't wait.
She will make an excellent pilot, I have no doubt, and I'm actually excited about the possibility of flying with my friend in the pilot's seat. I'm also inspired by her bravery (it's an airplane…she's flying…wow) and her decision to go for it, even when her otherwise busy life might make some people think that dreams would have to wait.
Another good friend recently discovered a love for making jewelry. She uses metal rings to make beautiful bracelets, pendants and other pieces of chainmaille art. Her skills have improved so quickly that she has already started entering her pieces into contests, and last month, her entry won.
This beautiful glass caterpillar choker was her entry: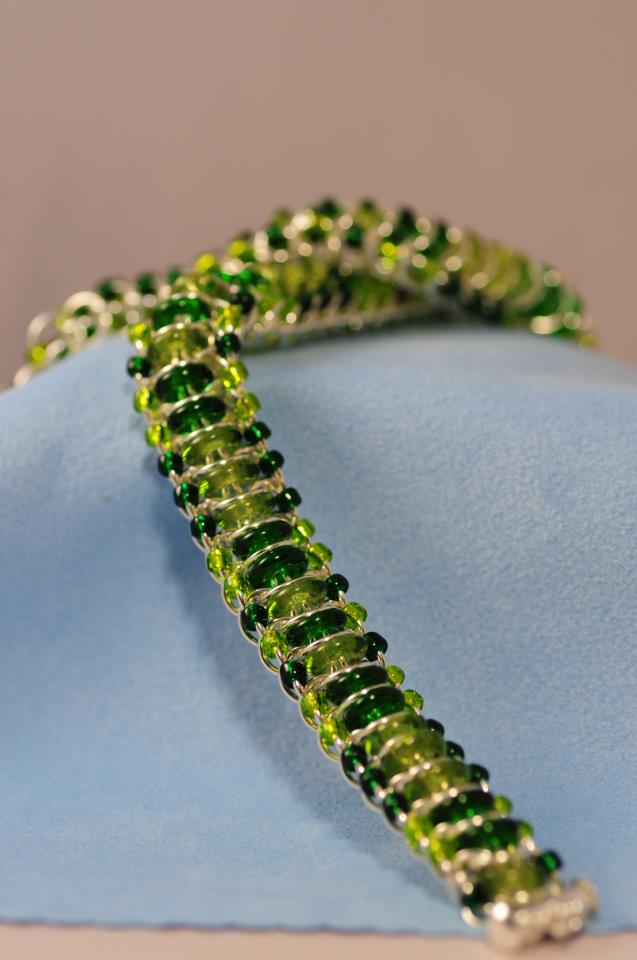 The contest was judged by Internet voting, and her piece took first place. This is just one of her many beautiful pieces. I am inspired by her skill and amazed with the speed at which her talent translated into beautiful creations.
It is one thing to have a dream, and another to make it live. It takes dedication, effort, and the ability to persevere even when everything around you argues for the status quo. My friends have jobs, families, and a thousand other daily interferences clamoring for their time, yet each has given life to a dream – one old, the other new. Each has succeeded. Each inspires me, and each has supported my writing, just as I gladly encourage their dreams.
I am proud to call them my friends.
Who inspired you today? Have you succeeded, or pushed forward with a dream? Hop into the comments and share!